Accounting Software Malaysia Comparison
Every business needs an accounting software. Which accounting software is best suited for your business?
Every business needs an accounting software. Which accounting software is best suited for your business? Besides the basic recording and bookkeeping, what more can the accounting software do? How can the accounting software contribute to your business's grow? Accounting software is a complex software. This makes it difficult to switch between different software providers, so it is most likely that once you have decided on an accounting software, you will use it for many years.
Why is customizability an important factor when acquiring an accounting software?
How can customization help to improve your business flow, productivity, efficiency, and efficacy?
Customizations are separated into two different main functionalities. One is operational customization and the other is preventive customization.
In operational customization, the customizations aim to add-on to the existing software operation process flow. Certain industries have additional steps when it comes to calculation of costing, manufacturing, and even invoicing or billing. Examples of industries that will benefit from operational customization are glass and window businesses, cargo and freight, and hardware manufacturers. The operation customizations are usually based on mathematical calculations, creating, implementing new formulas, and automating certain processes to the system's existing formula. An example of operational customization would be configuring the formula to calculate the total sales amount of an invoice based on the volume (length x height x width) of metal sheets. Operational customization can also be used to improve workers proactiveness by calculating commission rates based on collection period, volume of sales, or type of items sold.
Preventive customization on the other hand aims to control and preserve the current flow of the system. The types of customizations done are usually to add an additional level of protection to prevent users of the software from abusing the system. Additional reports and system notifications can be made to inform users if and when they have underpriced an invoice or picked the wrong products for delivery. This eliminates human error while simultaneously retaining satisfied clients.
If you use an accounting software that is not scalable, you will eventually need to switch to another accounting software when your business expands. In the process of migrating to another software, you will lose valuable historical data. Hence, purchasing an accounting software is a big decision with long-term implications. Choose wisely on which accounting software works best for your business.
The table below compares the pricing and features of all cloud-based accounting software that are currently available in the market:
Accounting Software Malaysia Pricing Comparison
Quickbook

RM108

/month

SQL Account

RM109

/month

Biztory

RM165

/month

Autocount

RM180

/month

Xero

RM207

/month

Accounting, Invoicing, Inventory
Currency Forex Gain Loss
Invoice Template Customise
Formula & Logics Customise
eCommerce Integrate (Lazada & Shopee)
Link with Bank, Auto Bank Recon
WhatsApp
Hybrid Cloud (Uninterrupted office operations even if the internet is down)
SST / GST
Data Import from Your Existing Software
What is hybrid cloud Accounting Software?
SQL Hybrid cloud is an accounting software as a service (SaaS) that combines flexibility, agility, customizability, unlimited storage and access all in one neat package! Users can access software either through the cloud or through the software application installed on their own computer. The advantage of SQL hybrid cloud is that business operations remain uninterrupted even if the internet is down.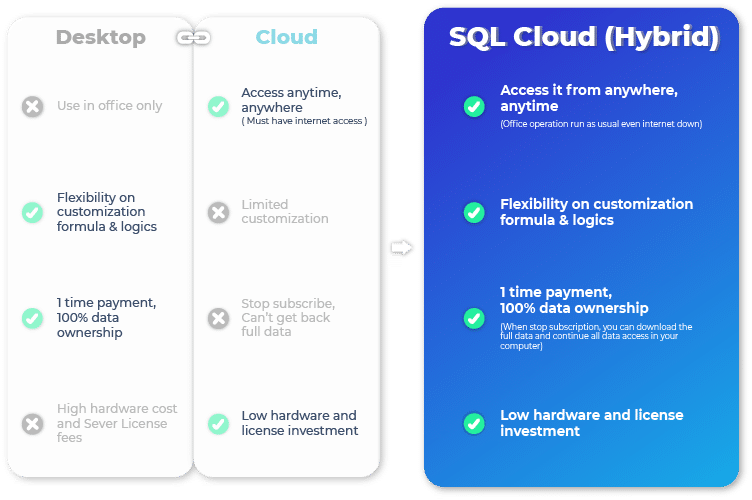 Why Hybrid Cloud Accounting Software?
What is the benefits?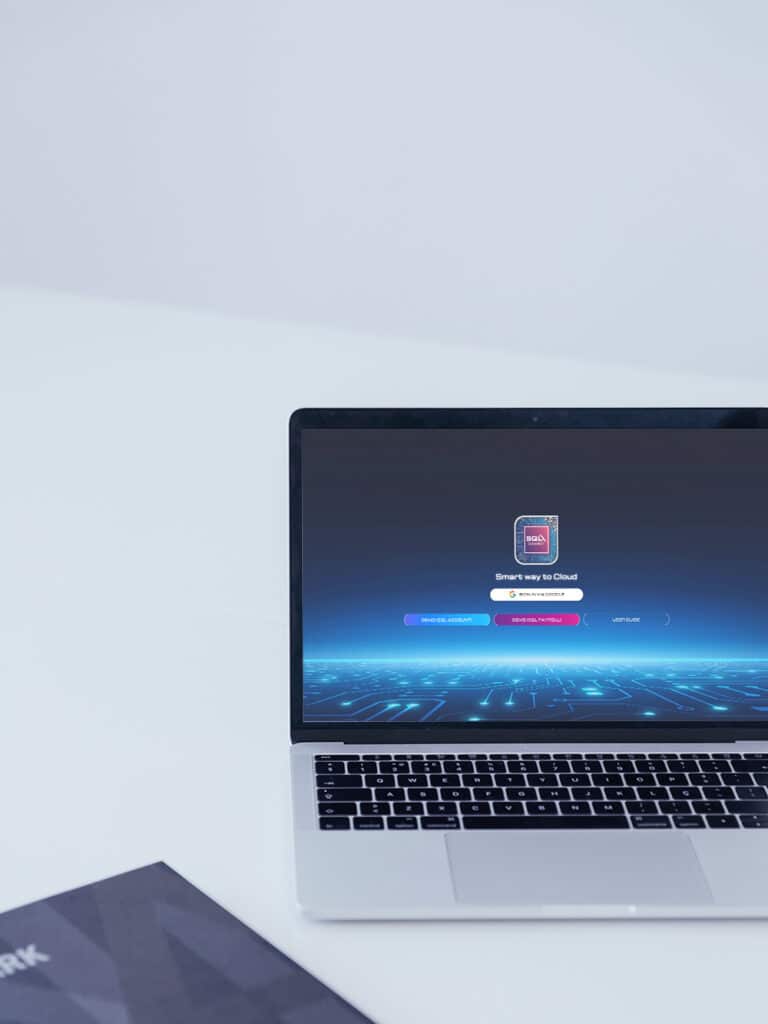 Highly Customizable
Formula & Logics
SQL Cloud can be tailored to match your unique business flow. SQL is used in more than 100 industries across the nation. As a business grows and evolves, automation is the key to stay ahead of the competition. Tell SQL experts about your business operation logic and SQL will do their best to implement your current operational workflow into the existing SQL software process. It is also possible to add customization to the security and access control aspect of the software. This customization helps to eliminate mistake and boost company's productivity and efficiency.
Salesman Commission
Creating the perfect commission structure is crucial to your company's success. As an employer, how you choose to pay your sales representative affects your company's profitability, sales margin, and ability to retain talents. How can you automate your salesman commission calculation base on your company structure? SQL Account has helped more than 250,000 organization to implement automated salesman commission calculation. Commission calculation can be customized based on the date of invoice issued or payment received. After implementing the formula, the salesman commission can be generated automatically at every month end.
More specifications can be added to the commission customization. The customization can take into account the aging of invoices and the number of days for payment to be finalized. Besides that, the customization can also determine if the commission is released based on partial or full collection and if the assignment of different commission rates is based on profit margin of the items sold or based on item groups.
Full Data Ownership & No Monthly Subscription Fee
The best feature of SQL Hybrid cloud is that users have 100% data ownership and full control over their own data security since SQL Hybrid cloud server is located on the company's own premise.
When it comes to cloud migration, cost is a major factor. A hybrid cloud is an excellent option for businesses that want more protection and control over their data while also needing a cost-effective way to scale operations to meet demand spikes as well as laying a strong foundation to support long-term company growth. SQL hybrid cloud allows you to work from anywhere at any time. SQL Hybrid cloud is a one-time payment setup with no recurring costs.
Unlimited Resources • Unlimited Transactions • Unlimited File Size
SQL Cloud supports unlimited number of invoices and transactions with NO additional charges. Unlike their other competitors, SQL Cloud does not charge for their cloud services based on storage capacity or the frequency of transactions. SQL is aware that it is important for a business to have the freedom and right resources to properly function. So with SQL Cloud, you do not need to worry about additional costs and can focus on developing a strong foundation and focus on your business's future growth.
SQL Account FREE Demo
Find out how SQL Account can improve your business operation today!
Register for an in-person or an online ZOOM demo conducted by our skilled SQL expert consultants.
Try SQL Accounting Software For FREE!
Experience and Download the best Accounting Software for your business